News | Announcement
An Update from Ryan Health on Coronavirus
March 19, 2020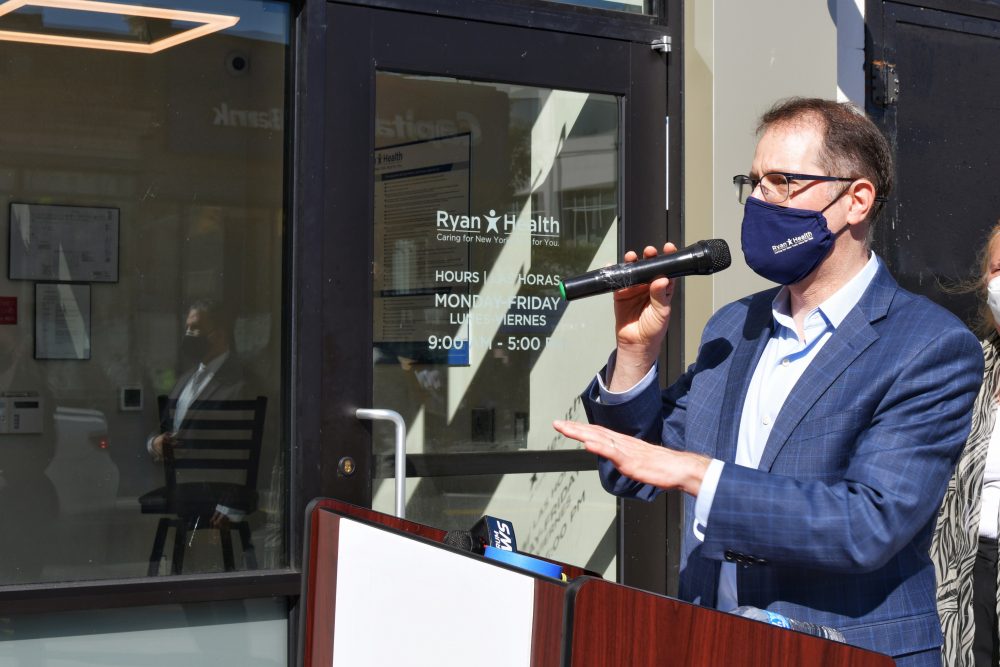 A message to our Ryan Health Family,
The news about coronavirus, or COVID-19, and its impact on New York City changes quickly. As the scope of the virus becomes clearer, government and businesses are making decisions that will change our daily lives for the foreseeable future. We want to share with you what Ryan Health is doing, so you can be sure we remain available to keep you as healthy as possible during this uncertain time.
STAY INFORMED
First and foremost, please don't panic. Yes, coronavirus is very serious, and you have seen a global mobilization to minimize its impact. You have no doubt heard about the specific actions you should take now. These include:
Wash your hands often with soap and water for at least 20 seconds. If soap and water are not available, use an alcohol-based hand sanitizer.
Avoid touching your eyes, nose, and mouth with unwashed hands.
Avoid close contact with people who are sick.
Stay at home as much as you can. Practice social distance, which means staying away from others. If you are in public, try to maintain a distance of at least six feet from others.
Cover your cough or sneeze with a tissue, then throw the tissue in the trash.
Clean and disinfect frequently touched objects and surfaces.
If you can, prepare a 30-day supply of prescriptions and essential medications. Use our MyCare Portal or call us at 212-749-1829 if you need refills. Have essential household supplies on hand. And have a support system in place for older family members.
WHAT ARE THE SYMPTOMS OF COVID-19?
The common signs and symptoms of COVID-19 are:
Fever
Cough
Shortness of breath
Sore throat
Fatigue
Muscle aches
Diarrhea
CARE FOR OUR PATIENTS WITH SYMPTOMS OF COVID-19
If you believe you have symptoms of COVID-19:
If you have mild to moderate symptoms, stay home. You should not seek medical care or try to get tested. By staying home, you reduce the possibility of transmission to others, including health care workers who are needed to care for the more seriously ill.
If your symptoms do not go away or get worse after three to four days, consult with your doctor.
Stay home for at least seven days after your symptoms started. Make sure that you have been fever-free for three days without the use of fever-reducing drugs, such as Tylenol and ibuprofen. Also, make sure that your cough and sore throat are better before you go back to your routine. If you never had a fever, stay at home for at least three days after your symptoms start improving.
If you go out to see your doctor, wear a face mask if available. If possible, take a private car, sit in the back seat and roll down the window.
If you have more severe symptoms, such as difficulty breathing and very high fever, go to an emergency department. Call 911 if you need help right away.
PRIMARY CARE AND SPECIALTY SERVICES
Ryan Health is continuing to provide primary care and specialty services to children, adults, and seniors. Should you need to visit a Ryan Health center, please be aware that we are screening ALL patients, visitors, and employees for COVID-19 symptoms. If you have symptoms you will be directed to an isolation room for further testing.
At all our centers, you will experience a heightened level of safety as a precaution due to the highly infectious nature of coronavirus. This will include increased use of masks, separation from other patients if you have symptoms, and social distancing tactics in our waiting rooms to lessen the potential for spreading germs, among other strategies.

At the recommendation of the American Dental Association (ADA), we are suspending dental services for the next three weeks except for emergency care. We have emergency dental services available at Ryan Health | West 97th Street, NENA, and Ryan Chelsea-Clinton. Patients requiring emergency care at Ryan Health | Adair will be seen at Ryan Health | West 97th Street. Please call our Call Center at 212-749-1820 if you require emergency care.

Due to a decrease in patients seeking care, our centers are closing at 5 pm and suspending Saturday appointments until further notice.
COORDINATION WITH THE NEW YORK HEALTH CARE COMMUNITY
Ryan Health always works with the New York State Department of Health, New York City Department of Health and Mental Hygiene, and the Centers for Disease Control and Prevention (CDC) to maintain the highest standards of health care delivery. During the COVID-19 crisis, we remain in constant coordination with our partners and experts to ensure we are following all protocols for what are quickly changing circumstances impacting public health.
We understand your concern about your family's health during this uncertain time. Please refer to our website, www.RyanHealth.org, and our Facebook and Twitter accounts, both @RyanHealth, for updates.
Together, we will get through the COVID-19 outbreak. Admittedly, there will be sacrifices we each must make, but those will only serve to shorten the length of the epidemic. We know this is a challenge for each of us personally, for your family, and the health care system. Ryan Health prides itself on our presence in the community, our superior health care providers and staff, and our commitment to ensuring a healthy New York City.
In strength and health,
Brian P. McIndoe, MPH
President and Chief Executive Officer
Ryan Health
Liana Leung, MD, MPH, FACP
Chief Medical Officer
Ryan Health
This newsletter is for informational purposes only. Any discussion herein of medical conditions or treatment is not intended as a substitute for advice from a physician or qualified healthcare professional.

Para nuestras últimas noticias en español, ver a continuación:
Mensaje a nuestra familia de Ryan Health:
Las noticias sobre el coronavirus, o COVID-19, y su impacto en la ciudad de Nueva York, están cambiando rápidamente. A medida que el alcance del virus se vuelve más claro, el gobierno y las empresas están tomando decisiones que cambiarán nuestra vida cotidiana en el futuro previsible. Queremos compartir con usted lo que Ryan Health está haciendo, para que pueda estar seguro de que estamos listos para atenderle y mantenerle lo más sano posible durante estos tiempos de incertidumbre.
PERMANEZCA INFORMADO
En primer lugar, no se asuste. Sí, el coronavirus es muy grave y se ha visto una movilización mundial para minimizar su impacto. Sin duda ha escuchado sobre las medidas específicas que debe tomar ahora. Estas incluyen:
Lávese las manos con frecuencia con agua y jabón durante al menos 20 segundos. Si no tiene agua y jabón, use un desinfectante para manos a base de alcohol.
Evite tocarse los ojos, la nariz y la boca sin haberse lavado las manos.
Evite el contacto cercano con personas que estén enfermas.
Quédese en casa tanto como pueda. Practique el distanciamiento social, lo que significa mantenerse alejado de los demás. Si está en público, trate de mantener una distancia de al menos seis pies (2 metros) de otras personas.
Cúbrase la boca con un pañuelo desechable si tose o estornuda, y luego tírelo a la basura.
Limpie y desinfecte objetos y superficies que se tocan con frecuencia.
Si le es posible, prepare un suministro de 30 días de recetas y medicamentos esenciales. Utilice nuestro Portal MyCare o llámenos al
212-749-1820 si necesita resurtir sus recetas. Tenga a la mano suministros esenciales para el hogar. Además, tenga un sistema de apoyo para las personas de edad avanzada de su familia.
¿CUÁLES SON LOS SÍNTOMAS DE COVID-19?
Los síntomas y señales comunes de COVID-19 son:
Fiebre
Tos
Dificultad para respirar
Dolor de garganta
Cansancio
Dolores musculares
Diarrea
ATENCIÓN MÉDICA PARA NUESTROS PACIENTES CON SÍNTOMAS DE COVID-19
Si cree tener síntomas de COVID-19:
Si tiene síntomas leves a moderados, quédese en casa. No debe buscar atención médica ni intentar hacerse la prueba del virus. Si se queda en casa, reducirá la posibilidad de contagiar a otros, incluidos los trabajadores de la salud que se necesitan para atender a los enfermos más graves.
Si sus síntomas no desaparecen, o empeoran después de tres o cuatro días, consulte a su médico.
Quédese en casa durante al menos siete días después de que comiencen sus síntomas. Asegúrese de no haber tenido fiebre durante tres días sin el uso de medicamentos antifebriles, como Tylenol o ibuprofeno. Además, asegúrese de que mejore su tos y dolor de garganta antes de regresar a su rutina. Si nunca tuvo fiebre, quédese en casa durante al menos tres días después de que sus síntomas empiecen a mejorar.
Si sale a ver a su médico, use una mascarilla si tiene una. Si le es posible, vaya en transporte privado, siéntese en el asiento trasero y baje la ventanilla.
Si tiene síntomas más graves, como dificultad para respirar y fiebre muy alta, vaya a una sala de emergencias. Llame al 911 si necesita ayuda de inmediato.
ATENCIÓN MÉDICA PRIMARIA Y SERVICIOS ESPECIALIZADOS
Ryan Health continúa brindando atención primaria y servicios especializados a niños, adultos y personas mayores. Si necesita visitar un centro Ryan Health, tenga en cuenta que estamos evaluando a TODOS los pacientes, visitantes y empleados para detectar los síntomas de COVID-19. Si tiene síntomas, se le dirigirá a una sala de aislamiento para realizar más pruebas.
En todos nuestros centros, experimentará un mayor nivel de seguridad como precaución, debido a la naturaleza altamente infecciosa del coronavirus. Esto incluirá un mayor uso de mascarillas, separación de otros pacientes si tiene síntomas y tácticas de distanciamiento social en nuestras salas de espera, para disminuir la posibilidad de propagar gérmenes, entre otras estrategias.
Debido a una disminución de los pacientes que buscan atención médica, nuestros centros están cerrando a las 5 p.m. y suspenderán las citas los sábados, hasta nuevo aviso.
COORDINACIÓN CON LA COMUNIDAD DE ATENCIÓN MÉDICA DE NUEVA YORK
Ryan Health siempre trabaja con el Departamento de Salud del Estado de Nueva York , el Departamento de Salud e Higiene Mental de la Ciudad de Nueva York y los Centros para el Control y la Prevención de Enfermedades (CDC) para mantener los más altos estándares de prestación de atención médica. Durante la crisis de COVID-19, permanecemos en constante coordinación con nuestros socios y expertos para asegurarnos de seguir todos los protocolos para las circunstancias rápidamente cambiantes que están afectando la salud pública.
Entendemos su preocupación por la salud de su familia durante estos tiempos de incertidumbre. Visite nuestro sitio web, www.RyanHealth.org, y nuestras cuentas de Facebook y Twitter, ambas @RyanHealth, para obtener actualizaciones.
Juntos, superaremos el brote de COVID-19. Es cierto que habrá sacrificios que cada uno tengamos que hacer, pero servirán para acortar la duración de la epidemia. Sabemos que este es un reto para cada uno de nosotros personalmente, para su familia y para el sistema de atención médica. Ryan Health se enorgullece de nuestra presencia en la comunidad, de nuestros excelentes proveedores y personal de atención médica, y de nuestro compromiso de garantizar que la ciudad de Nueva York sea una ciudad sana.