News | Announcement
Meet A New Member of Your Care Team: Dr. Ana C. Guerra, Medical Director, Ryan Health | Frederick Douglass and Adair
April 27, 2023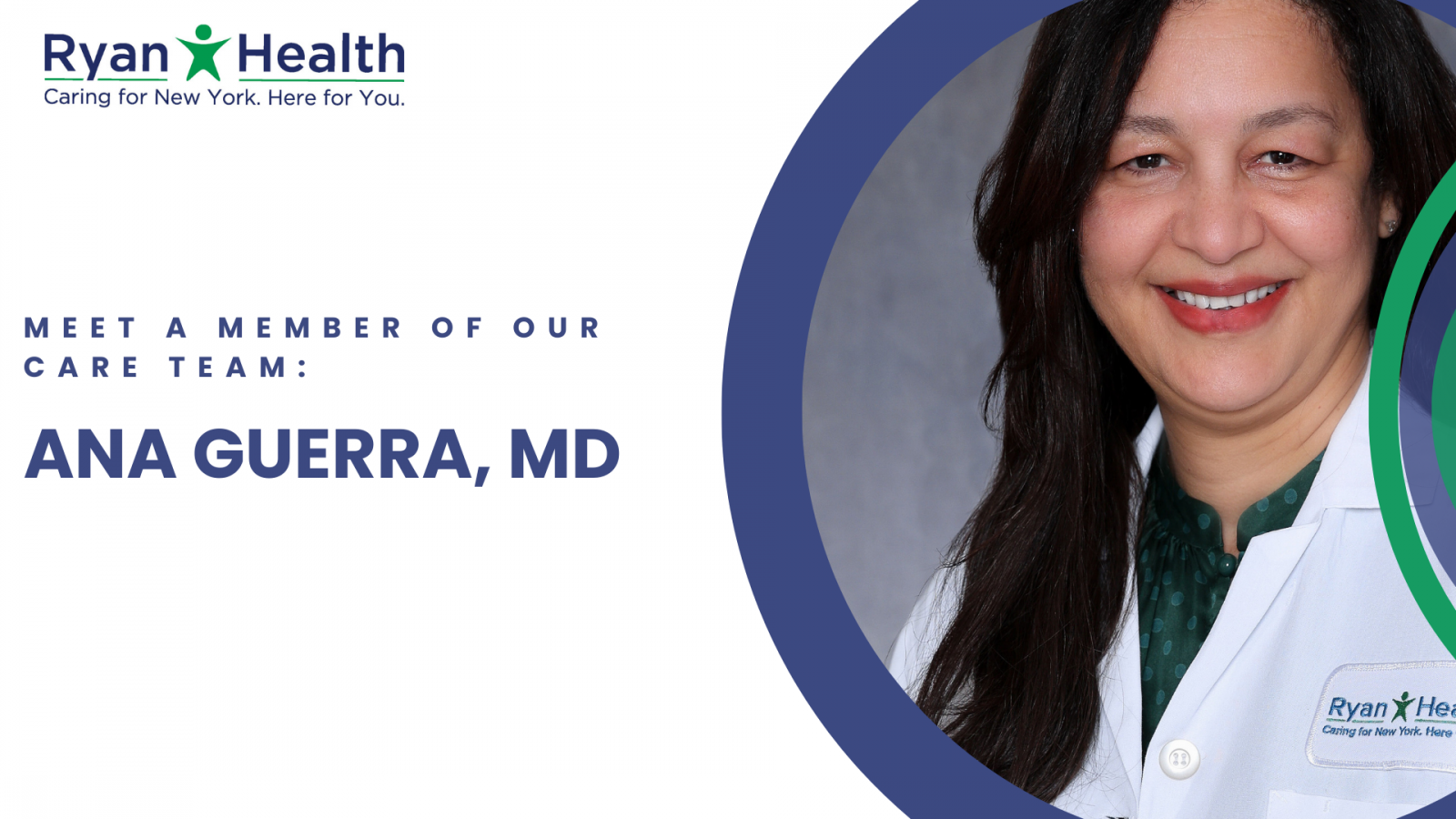 Dr. Ana C. Guerra is the Medical Director of Ryan Health | Frederick Douglass and Adair. She recently returned to Ryan Health after spending four years as a Family Medicine physician at the St. Joseph's Family Medicine Residency Program in Yonkers, New York. Dr. Guerra completed her residency in Family Medicine at NYU Lutheran Medical Center in Brooklyn, where she also served as Chief Resident.

What brought you back to Ryan Health?
I like working with families in the primary care setting. While it requires different skills than in a hospital, I feel that I am better at understanding the burdens people have and how to help them to change their lifestyles to be healthier. So much of what we deal with in the community — high blood pressure or cholesterol high enough to cause heart disease — are unfortunate events.
At Ryan Health, I can educate patients about their health and help them understand what they can do to become their own healthcare advocates. I can make a real change in people's lives. I can prevent complications and chronic conditions one patient at a time.
What's it like working at Frederick Douglass and Adair?
I have never worked in Harlem before. There are many health challenges in the Harlem community. It is rewarding to me to serve patients who have the greatest need for healthcare. Patients go wherever they can connect to a provider, and that's the most important thing. It helps to understand people from different backgrounds and cultures when caring for people in a city like New York.
You speak English, Spanish, Italian, and Romanian. How does that help you deliver healthcare?
Even though they might speak English, patients prefer to speak with someone in their own language. They want someone who can understand them culturally. They'll trust them more. A good example is talking to a Spanish-speaking patient about their diet. I can talk to them about rice and why they should limit it, and they'll know that I understand what that means to them.
I was born in the Dominican Republic, where Spanish is the native language, and I also learned English as a child. As a teen, my mother pushed me to learn another language, and I chose Italian.
What's home life like for you?
My family speaks three languages at home, although my kids prefer English. My husband is Romanian, so that is in the mix too. When I'm not working, we try to take advantage of as many New York City activities as we can. We see live music, theater and go to museums for art and culture. For vacations, road trips are my favorite way to spend time with the kids. We also have two big dogs, who I like to take to the park to run around. And when I'm alone, I love cooking and try to do that when I have free time. I love French food. It's very elaborate and requires dedication. I find it is a way to relieve stress for me.