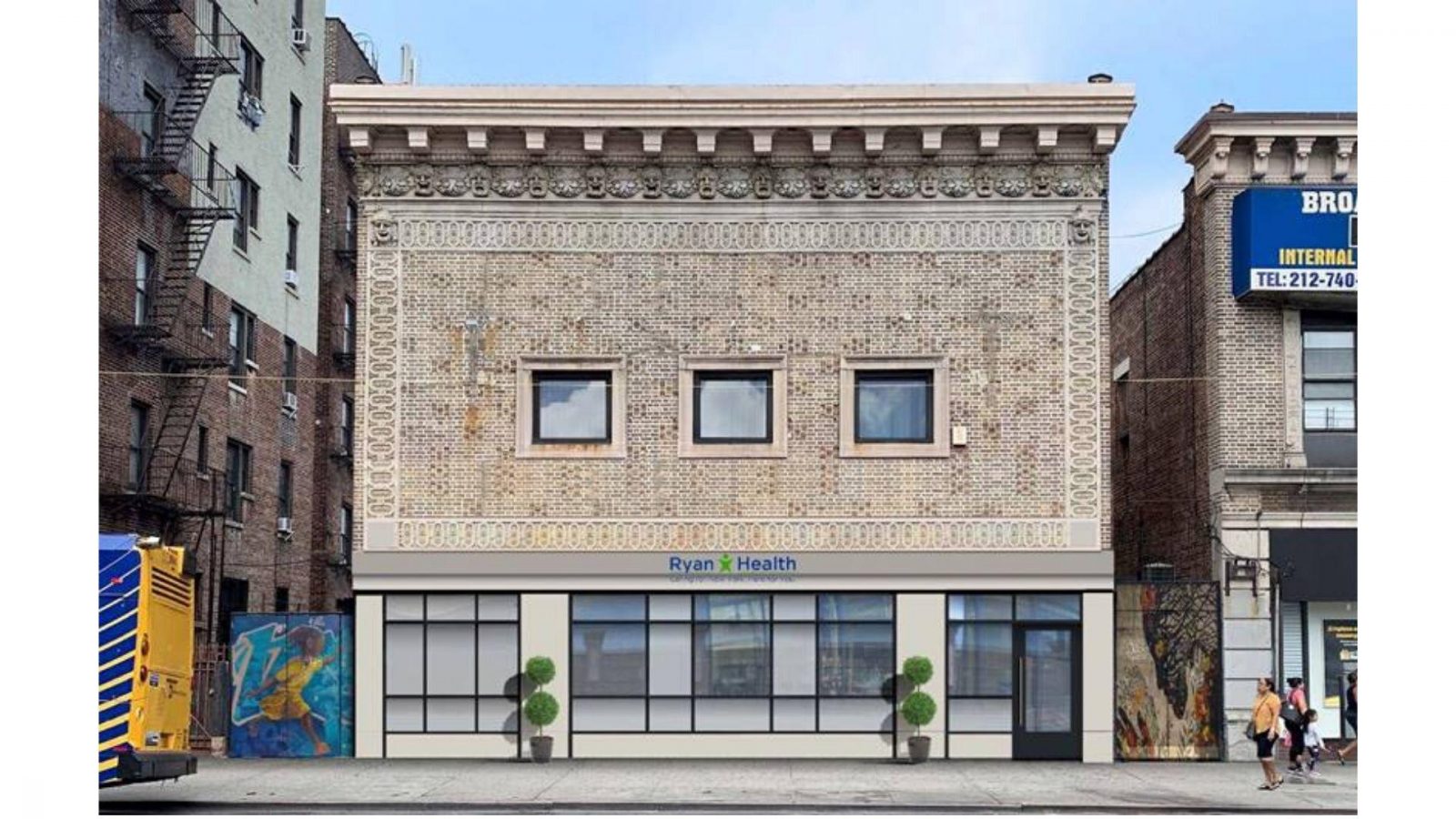 NEW YORK CITY — Ryan Health, a mission-driven network of community health centers in New York City, will expand to Washington Heights next year. Expected to open in summer 2020, pending New York State Department of Health review and approval, the new center will be located at 150 Wadsworth Avenue (at 181st Street).
"Our community needs assessment showed that Washington Heights has the greatest unmet need for health care in Manhattan," said Brian P. McIndoe, MPH, president, and CEO of Ryan Health. "Washington Heights has disproportionally high rates of diabetes, cardiovascular disease, and cancer, and we know Ryan Health will have a significant impact on improving the health of local residents."
In addition to high rates of diabetes and heart disease, hospitalizations for those conditions are also very high, which is evidence of a lack of access to primary care that would better enable residents to manage these chronic conditions. Income in Washington Heights is 40 percent below the borough-wide average.
Ryan Health's Washington Heights center will contain seven exam rooms in 2,700 square feet offering family medicine serving adults, children, and seniors. Behavioral health care will be available as part of primary care services for those who need it, and specialty care will be added based on patient needs. By Year 2, the Washington Heights center is expected to serve 3,500 patients, equaling 14,400 visits. It will employ 18 staff when fully operational, 11 of whom will be members of 1199SEIU. Staff of the center will be bilingual, reflecting the population of the community.
"Our expansion into Washington Heights to provide for its underserved residents lives up to our founding principle that health care is a right, not a privilege," said E. Ronald Guy, MA, chair of the Ryan Health Board of Directors. "Our goal in Washington Heights, as it is in the other neighborhoods we serve, is to improve the health and lives of the residents and the whole community."
Ryan Health has submitted a Certificate of Need application to the State Department of Health for approval of the new site and expansion. Ryan Health conducted a thorough search for new center space that was convenient to the community and transportation, ultimately leasing the space at 150 Wadsworth Avenue. It was represented in the deal by Christopher D. Turner and Maxwell King of Denham Wolf Real Estate Services, a nonprofit-focused firm.
About Ryan Health

Ryan Health (formerly The William F. Ryan Community Health Network), is a Federally Qualified Health Center ( based in Manhattan that has been providing high quality, comprehensive and affordable primary and specialty care to New York's diverse and underserved communities since 1967. Ryan Health' s tagline, "Caring for New York. Here for you." unites its network of 18 not for profit sites. These include six community health centers, seven school-based health centers, four community outreach centers, and a fully equipped mobile medical van, which together share a common mission, supported by the founding principle that healthcare is a right, not a privilege. Ryan Health's staff of nearly 600 play an integral role in caring for nearly 50,000 patients annually. Ryan Health is a proud recipient of federal grants to support its projects and programs. For more information about this funding, please visit our website at www.RyanHealth.org