Press Release
Ryan Health Board Names Daniel Pichinson President and CEO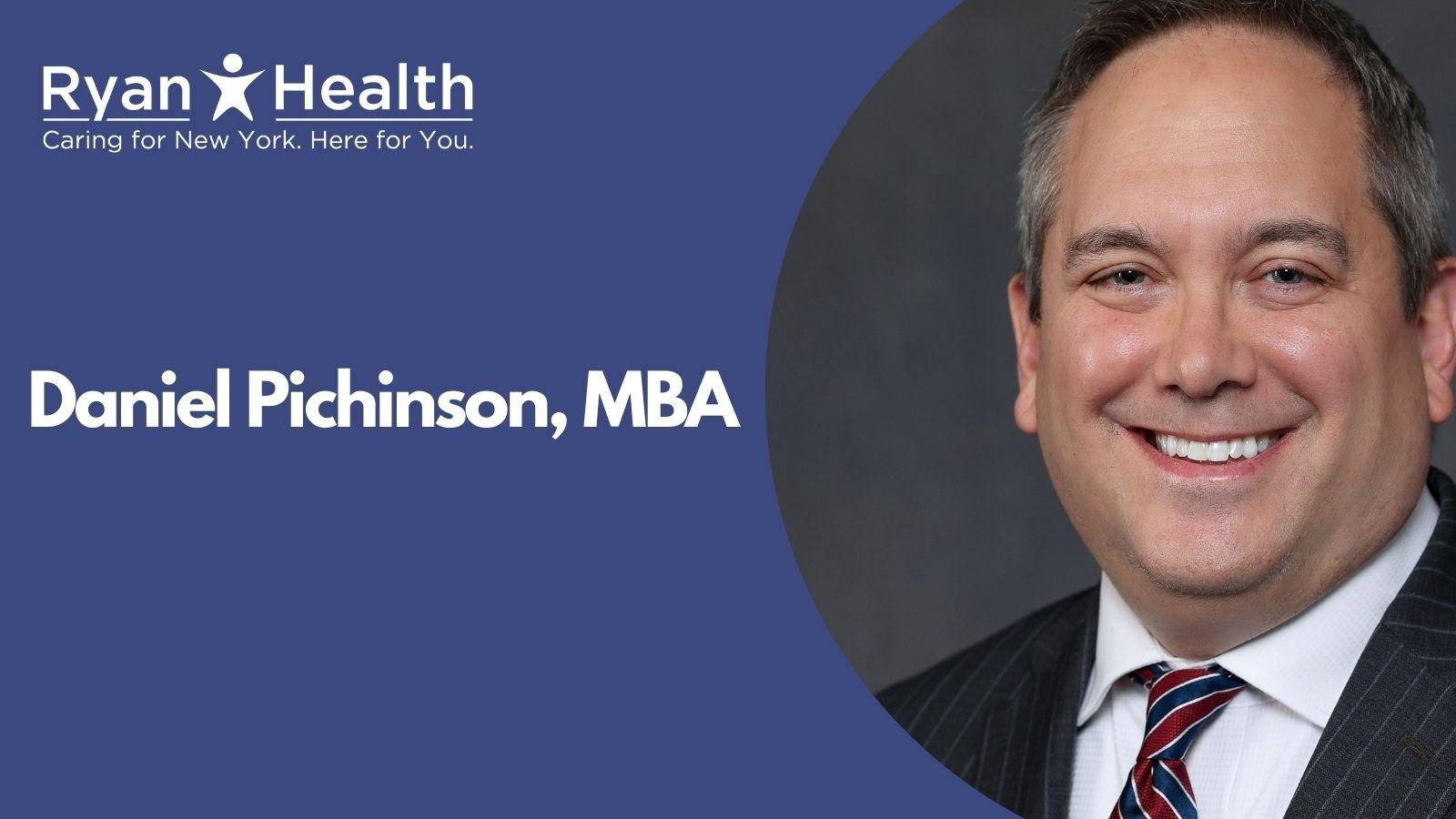 NEW YORK CITY — The Ryan Health Board of Directors announced today the appointment of Daniel Pichinson, MBA as President and CEO of the organization. Ryan Health is a mission-driven community health center with 17 locations throughout Manhattan. Dan Pichinson has been Executive Director of Ryan Chelsea-Clinton since 2017. He succeeds Brian P. McIndoe, who retired in September after eight years as President and CEO. Dan's appointment is effective January 2, 2024.

"After an exhaustive search, our Board enthusiastically agreed that Daniel Pichinson has the background, experience, and leadership skills to lead Ryan Health into our next great phase," said E. Ronald Guy, MA, CHM, Board Chair of Ryan Health. "His innovative ideas, understanding of healthcare delivery to under-resourced communities, and his commitment to our patients make him the right choice."
Under Dan's leadership, Ryan Chelsea-Clinton increased patient visits by 25%, added new programs and services, paid off its New York State bonds, and has been recognized for providing outstanding clinical outcomes for its patients. Dan has led Ryan Chelsea-Clinton through numerous healthcare emergencies, including COVID-19, Mpox, and the ongoing influx of asylum seekers.
To meet those challenges, he inspired his team to innovate and selflessly devote themselves to caring for the center's patients and community, while he has coordinated efforts with elected officials, city agencies, and community-based organizations. Dan believes in leading by example and has demonstrated a commitment to building and sustaining an inclusive work environment that honors and leverages each individual's diverse backgrounds and skills.
"Ryan Health does important work providing vital access to healthcare for New York City communities. Our patients rely on their relationships with our providers and our extensive care network to ensure their families' health," said Daniel Pichinson, MBA, incoming President and Chief Executive Officer of Ryan Health. "I'm looking forward to expanding our commitments and growing the trust our patients have in Ryan Health."
Before joining Ryan Chelsea-Clinton, Dan held administrative roles at Montefiore Medical Center, Acacia Network, Memorial Sloan-Kettering Cancer Center, Beth Israel Medical Center, and the New York State Department of Health. In each role, he contributed to the organizations through his expertise in operations management, fiscal planning, contract negotiations, and quality improvement initiatives.
He received his Bachelor of Arts from Rutgers University in New Jersey, and a Master of Business Administration in Healthcare Administration and Policy from Baruch College/Mount Sinai School of Medicine. He serves on the Board of Directors of the Community Health Care Association of New York State (CHCANYS), where he chairs its Workforce Committee, as well as the Boards of the Community Health Independent Practice Association (CHIPA) and the Midtown South Community Council.
"The Board expresses our deep thanks to Dr. Rashanna Lynch for taking on the role of Interim President and CEO, especially given her other significant responsibilities," Mr. Guy said. "She will return to her full-time role as Chief Medical Officer on the effective date of Dan's appointment."
Dan and his domestic partner, Dan Robles, live with their son in Queens, NY.
# # #
About Ryan Health
Ryan Health (formerly The William F. Ryan Community Health Network) is a Federally Qualified Health Center (FQHC) based in Manhattan that has been providing high-quality, comprehensive, and affordable primary care to New York's diverse and underserved communities since 1967. Ryan Health's tagline, "Caring for New York. Here for you." unites its network of 17 not-for-profit sites. These include seven community health centers, seven school-based centers, two community outreach centers, and a fully-equipped mobile medical van, which together share a common mission supported by the founding principle that healthcare is a right, not a privilege. Ryan Health's staff of nearly 500 play an integral role in caring for nearly 50,000 patients annually. Ryan Health is a proud recipient of federal grants to support its projects and programs. For more information about this funding, please visit our website at www.ryanhealth.org.