Press Release
Ryan Health's Annual Caring For New York Gala Raise Funds For Vital Healthcare Treatment And Prevention For Undersevered New Yorkers Event Honor Pioneering Leaders Helping New York Communities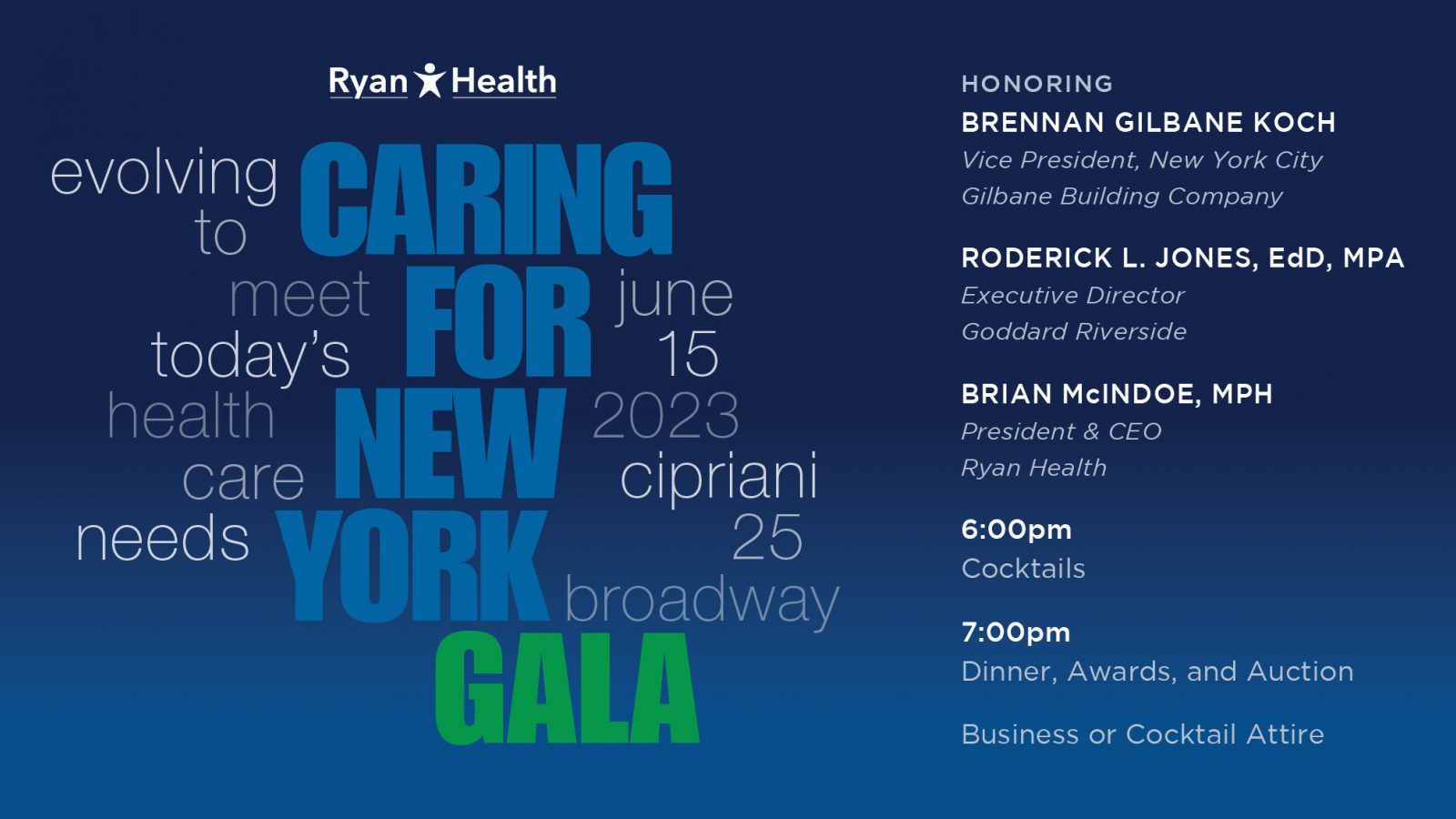 NEW YORK CITY — Ryan Health announces its annual Caring for New York Gala will take place on Thursday, June 15 at Cipriani 25 Broadway. The evening's festivities kick-off with a cocktail reception at 6:00 pm, followed by dinner, awards, and auction 7:00- 9:00 pm. The event raises hundreds of thousands of dollars for underserved New Yorkers and honors healthcare leaders for their pioneering work. Proceeds from this year's gala will allow Ryan Health to advance its mission of providing exceptional primary care and specialty services to low-income members of the community, including individuals still coping with the mental health impacts of COVID-19 and asylum-seekers who have arrived in New York City needing healthcare and other support services.

This year's Gala Healthcare Hero honorees are Brennan Gilbane Koch, Vice President, Gilbane Building Company, New York City, and Roderick L. Jones, EdD, MPA, Executive Director of Goddard Riverside. Also being honored is Ryan Health's President and CEO, Brian McIndoe, MPH, who is retiring this summer after leading the organization since 2015; he served as Ryan Health's CFO for six years prior.
The Caring for New York Gala will feature entertainment by Sing Harlem, the breakout musical group from the Mama Foundation for the Arts under the direction of Ahmaya Knoelle Higginson. The cocktail reception will feature the Richard Cortez Band, led by queer jazz song interpreter Richard Cortez. Patrick Tully will be the evening's host and conduct the live auction.
"Our Caring for New York Gala supports the work we do all year delivering healthcare to New York's underserved communities," said Brian P. McIndoe, President, and Chief Executive Officer of Ryan Health. "Our healthcare landscape continues to change even since the pandemic, with new challenges for our care teams. This event ensures we are able to reach those who are in the most need wherever they are in the community."

The live and online auctions include lots of great items, such as: 2 suite tickets for Beyonce's Renaissance World Tour at Metlife Stadium (package includes food and drink in the Mutual of America suite and a parking pass), a Saturday Night Live experience, tickets to The Tonight Show with Jimmy Fallon and Late Night with Seth Myers, dinners at LAVO and Felice, tickets to Yankees, Mets, and Giants games, and so much more. For the first time, Ryan Health will hold its gala at Cipriani 25 Broadway, located in the Neo-Renaissance inspired Cunard Building designed by Benjamin Wistar Morris and completed in 1921.
Gala sponsors include Cocktail Reception Sponsor: 340Basics; Dessert Reception Sponsor: Healthfirst; Health Crusaders: Fidelis Care, Columbus Square Management, Mount Sinai, and CohnReznick; and Health Protectors: TD Bank, Quest Diagnostics, and Henry Schein, Inc.
Tickets, sponsorships, and other information on the Caring For New York Gala can be found at ryanhealth.org/caringfornewyorkgala.
# # #
About Ryan Health
Ryan Health (formerly The William F. Ryan Community Health Network) is a Federally Qualified Health Center (FQHC) based in Manhattan that has been providing high-quality, comprehensive and affordable primary care to New York's diverse and underserved communities since 1967. Ryan Health's tagline, "Caring for New York. Here for you." unites its network of 17 not-for-profit sites. These include seven community health centers, seven school-based centers, two community outreach centers, and a fully-equipped mobile medical van, which together share a common mission, supported by the founding principle that healthcare is a right, not a privilege. Ryan Health's staff of nearly 500 play an integral role in caring for nearly 50,000 patients annually. Ryan Health is a proud recipient of federal grants to support its projects and programs. For more information about this funding, please visit our website at www.ryanhealth.org.