News | Announcement, Community
COVID-19 Vaccines Now Avaible for Everyone 5+
January 12, 2022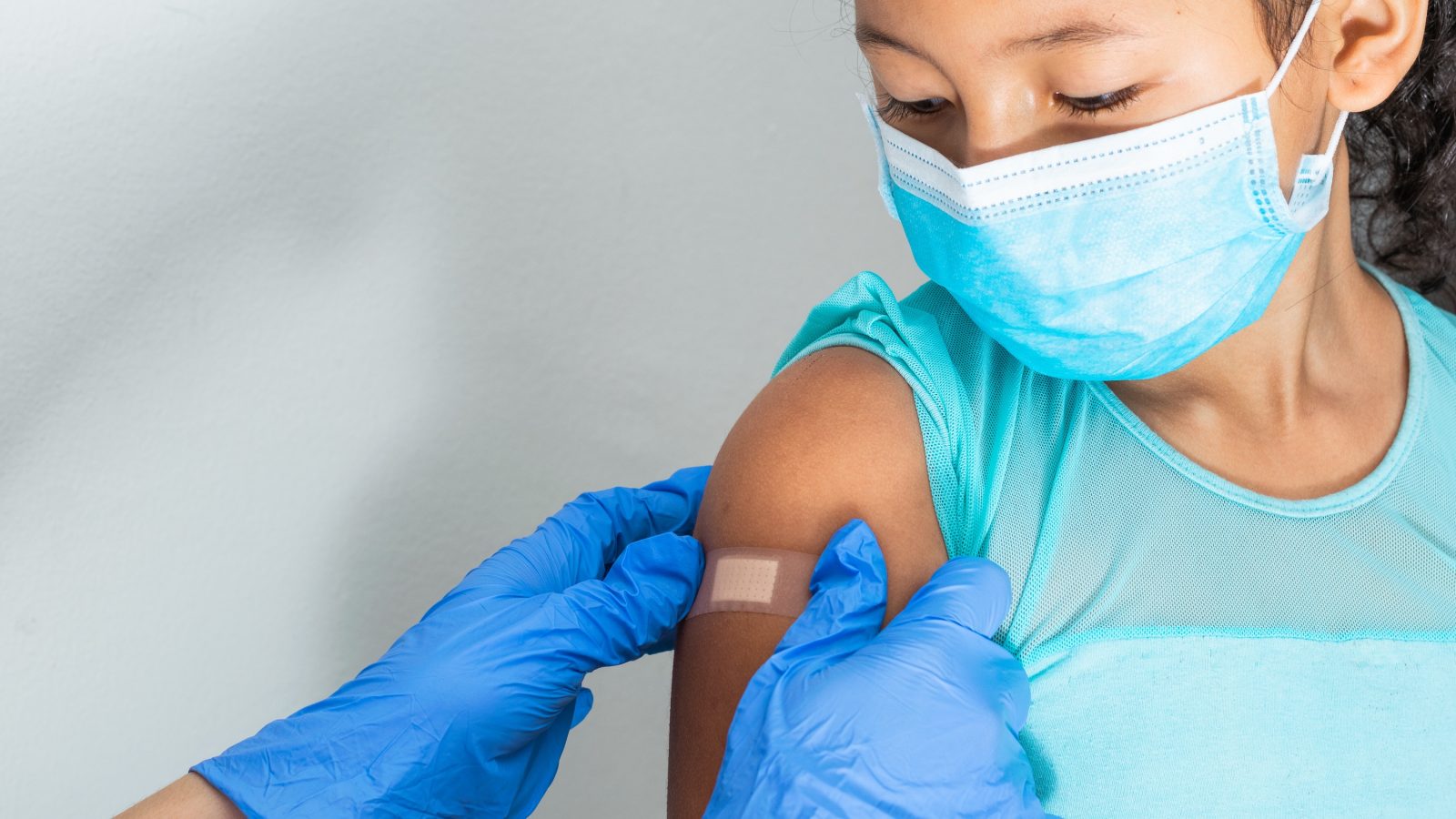 The CDC has recommended the Pfizer-BioNTech COVID-19 vaccine two-dose series for children 5 through 11 years of age after recommendations from the Advisory Committee on Immunization Practices (ACIP) and the Food and Drug Administration (FDA) for Emergency Use Authorization.

The Pfizer-BioNTech vaccine has undergone clinical trials with about 3,000 children and the FDA has determined that the Pfizer-BioNTech COVID-19 vaccine has met the safety and efficacy standards for authorization in children ages 5 through 15 years.
According to the CDC, getting a COVID-19 vaccine can help protect children ages 5 years and older from getting COVID-19, including the following benefits:
Vaccinating children can help protect family members, including siblings who are not eligible for vaccination and family members who may be at increased risk of getting very sick if they are infected.
Vaccination can also help keep children from getting seriously sick even if they do get COVID-19.
Vaccinating children ages 5 years and older can help keep them in school and help them safely participate in sports, playdates, and other group activities.
We encourage our pediatric patients to receive the COVID-19 vaccine to protect themselves, their families, and the community.
Ryan Health has ample supply of the specially formulated pediatric COVID-19 vaccine and will be offering it at all sites. To schedule a COVID-19 vaccination, use the Ryan Health Online Appointment Scheduler or call 212-749-1820.
Booster Shot Information
The CDC recommends that all fully vaccinated people 12 older older receive a COVID-19 booster dose. Individuals may choose which vaccine they receive as a booster dose. Some people may prefer the vaccine type that they originally received, and others may prefer to get a different booster. The CDC's recommendations now allow for this type of mix and match dosing for booster shots. Individuals who received a Pfizer-BioNTech or Moderna COVID-19 vaccine are eligible for a booster shot at 5 months or more after their initial series. Teens ages 12 to 17 years old can receive the Pfizer-BioNTech COVID-19 booster shot.

For the nearly 15 million people who got the Johnson & Johnson COVID-19 vaccine, booster shots are also recommended for those who are 18 and older and who were vaccinated two or more (2+) months ago.
See below a booster shot eligibility chart below: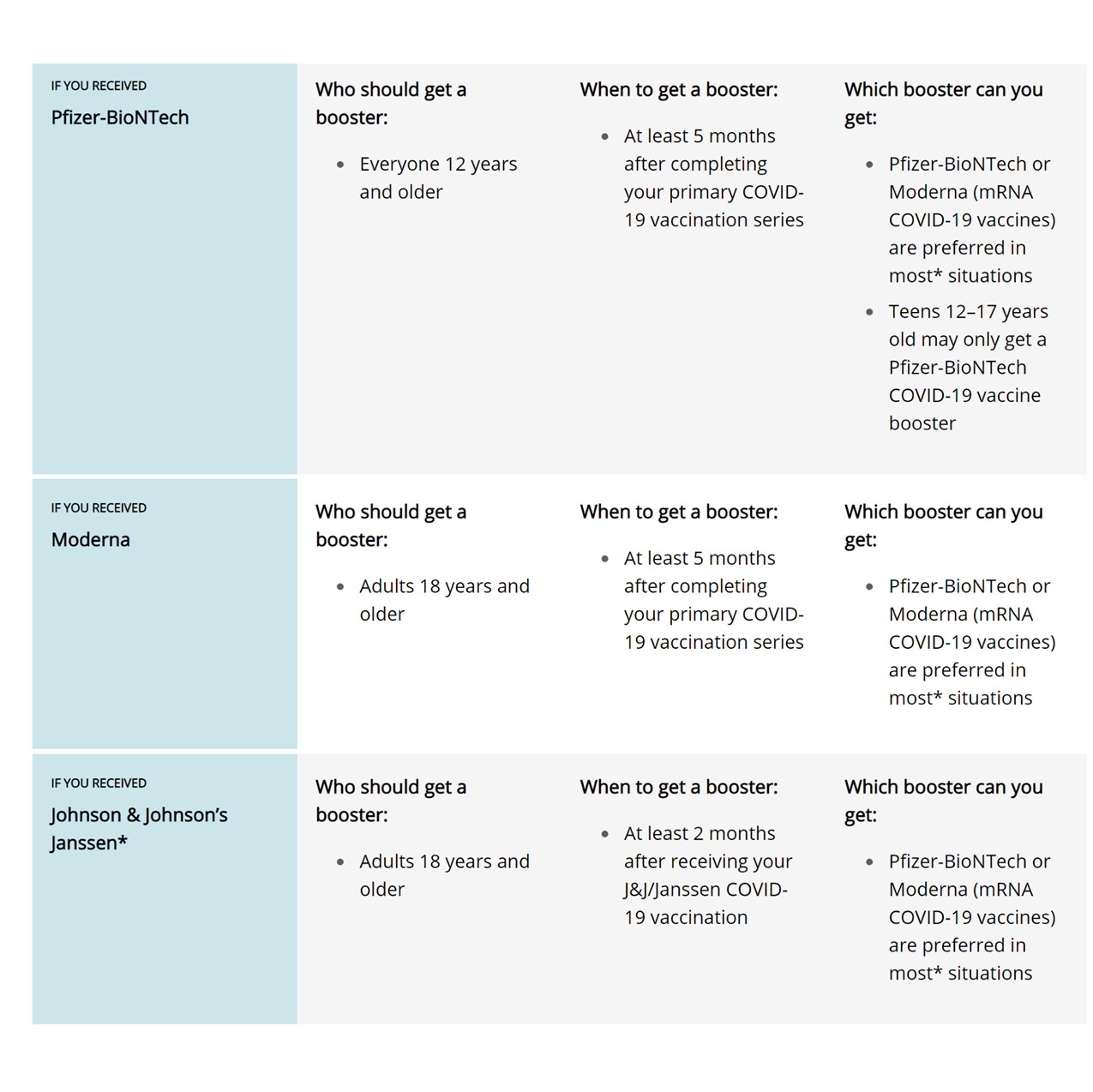 Initial COVID-19 Vaccine
Ryan Health is distributing the Moderna, Pfizer, and Johnson & Johnson vaccines for COVID-19 based on availability. We are encouraging everyone to take the vaccine when it is available for you. As per New York State Guidelines, New Yorkers 12 and older are eligible to get the vaccine.
To schedule your COVID-19 vaccination, use the Ryan Health Online Appointment Scheduler or call 212-749-1820.

Parents interested in having their children vaccinated at one of our school-based health centers can email us at school@ryanhealth.org to schedule an appointment.
Once your appointment is scheduled, New York State requires you to complete the following survey: https://vaccineform.health.ny.gov.