News | Announcement, Community
Community Health Centers – The Chemistry for Strong Communities
August 4, 2021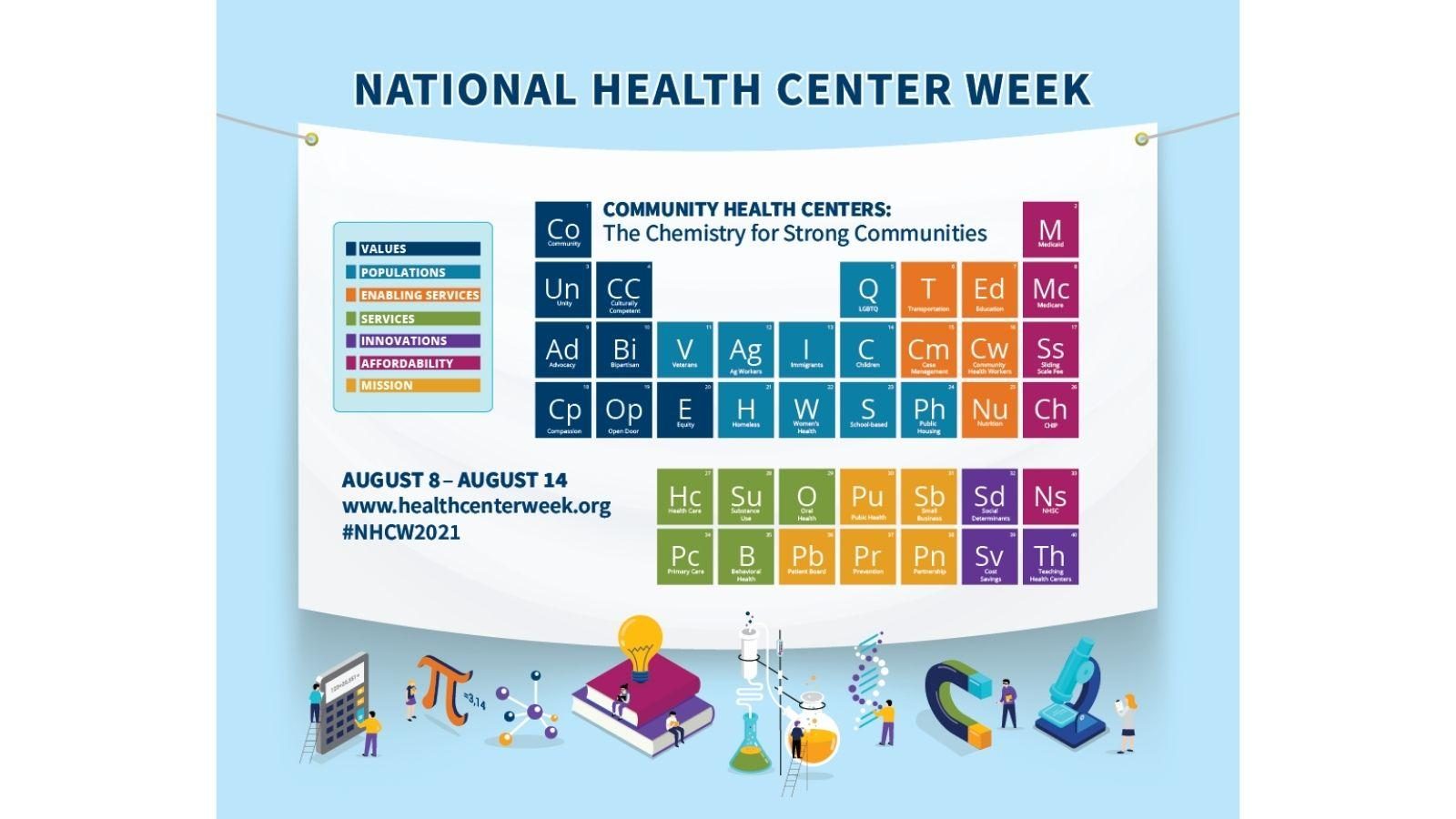 National Health Center Week is an annual celebration with the goal of raising awareness about the mission and accomplishments of America's health centers over the past five decades.

Ryan Health is conducting the following events in honor of National Health Center Week, which runs from August 8 through 13 (all events are free to attend):
Monday, August 9, 12:00 PM - 2:00 PM: Ryan Health | Wadsworth: We are hosting our first ever In the Heights Health Fair! We will provide health screenings, COVID-19 testing, and vaccinations.
Tuesday, August 10, 11:00 AM - 3:00 PM: Ryan Health | Adair & Frederick Douglass: Join us for our annual Harlem Healthy Resource Fair, at the Ryan Health | Adair center located at 565 Manhattan Avenue, New York, NY. Inspired by the National Health Center Week's theme "The Chemistry for Strong Communities", we will be having refreshments, COVID-19 vaccinations, health screenings, community resources, and much more!
Wednesday, August 11, 12:00 PM - 4:00 PM: Ryan Health | NENA: We are partnering with NYPD Community Service Bureau Affairs, and Police Service Area 4 as we host our "Back to School Revival" at the Jacob Riis Cornerstone (80 Avenue D). We will be having bookbags giveaways, health screenings, live music, and much more!
Wednesday, August 11, 3:00 PM - 3:45 PM: Ryan Health | West 97th Street and Women & Children's: Back-To-School webinar with Ryan Health's School Based Health Team. New York City Schools will fully reopen and will not provide remote learning this Fall. Katherine Ponsoldt, CPNP-PC, SBHC Program Supervisor, will discuss the requirements all students must meet to maintain their health and be ready to learn. Link here to sign-up for the webinar: https://us02web.zoom.us/j/88332452810
Friday, August 13, 10:00 AM - 4:00 PM: Ryan Chelsea-Clinton: We will be hosting our annual 'Our Food Has Roots' Food and Movement Fest. As we serve a varying patient population, we know that access to affordable and fresh produce can be challenging. To promote better eating habits and a more active lifestyle, we hold this event to give the community fresh free produce, healthy tasty recipes, and demonstrations on how to grow your own fresh produce.

In addition to celebrating community health centers across the nation, we also honor those front-line providers, staff, and beloved patients who lost their lives during the ongoing COVID-19 pandemic.